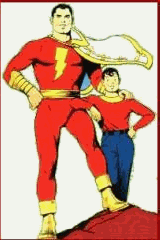 Captain Marvel
| | | |
| --- | --- | --- |
| Value | Characteristic | Points |
| 8/60 | STR | -2 |
| 11/21 | DEX | 3 |
| 13/28 | CON | 6 |
| 10/15 | BODY | 0 |
| 10 | INT | 0 |
| 11 | EGO | 2 |
| 13/23 | PRE | 3 |
| 14 | COM | 2 |
| 12/25 | PD | 0 |
| 6/24 | ED | 0 |
| 4/5 | SPD | 9 |
| 18 | REC | 0 |
| 56 | END | 0 |
| 55 | STUN | -4 |
| | Total | 19 |
| | | |
| --- | --- | --- |
| Points | Powers | END |
| 216 | The Power of Shazam, all Only in Hero ID(216) | |
| (30) | 15" Flight (NC: 30") (37) | 1 |
| (42) | +52 STR (52) | 2 |
| (12) | 1/2 END on 60 STR | |
| (10) | +13 PD (13) | |
| (5) | Hardened on 25 PD | |
| (14) | +18 ED (18) | |
| (5) | Hardened on 24 ED | |
| (24) | +15 CON (30) | |
| (24) | +10 DEX (30) | |
| (20) | Dmg Res (20 PD/20 ED), Hardened (25) | |
| (8) | +10 PRE (10) | |
| (8) | +1 SPD (10) | |
| (6) | +10 INT, requires normal INT roll (10) | |
| (8) | +5 BODY (10) | |
| 4 | Instant Change, Incantations ("SHAZAM!") (5) | |
| 220 | Total Powers | |
| | | |
| --- | --- | --- |
| Points | Skills, Talents, Perks | Roll |
| 3 | Deduction | 11- |
| 2 | PS: Journalism | 11- |
| 3 | Survival | 11- |
| 3 | +1 level w/Punch, Grab, and Haymaker | |
| 11 | Total Skills, Talents, Perks | |
| | |
| --- | --- |
| 100+ | Disadvantages |
| 10 | Dependent NPC: Uncle Dudley (Normal, 8-) |
| 15 | Hunted: Black Adam (11-) |
| 20 | Hunted: Dr. Sivana (11-) |
| 5 | Poor |
| 20 | Code Against Killing (Common, Total) |
| 20 | Naive (Very Common, Strong) |
| 15 | Secret ID (Billy Batson) |
| 10 | 2d6 Unluck |
| 5 | Minor (Infrequently, Slightly) |
| 15 | Rep: The World's Mightiest Mortal (14-) |
| 15 | Watched by Shazam (14-) |
| 150 | Total Disadvantages |
| | | | | | | | | | | |
| --- | --- | --- | --- | --- | --- | --- | --- | --- | --- | --- |
| COSTS: | Char. | | Powers | | Total | Total | | Disadv. | | Base |
| | 19 | + | 231 | = | 250 | 250 | = | 150 | + | 100 |
| | | | | | | |
| --- | --- | --- | --- | --- | --- | --- |
| OCV | DCV | ECV | Mental Def. | PD/rPD | ED/rED | Phases |
| 7 | 7 | 4 | 0 | 25/20 | 24/20 | 3, 5, 8, 10, 12 |
"When Billy Batson speaks the name of an ancient wizard, he is magically transformed from boy to man-- the world's mightiest mortal!"
What SHAZAM stands for:

Solomon- Wisdom
Hercules- Strength
Atlas- Stamina
Zeus- Power
Achilles- Courage
Mercury- Speed

That's about all you really need to know about Captain Marvel.
Created by C.C. Beck and Bill Parker (with an assist from Otto Binder)
Property of DC Comics.