The Last Remnants of The 250 Point Project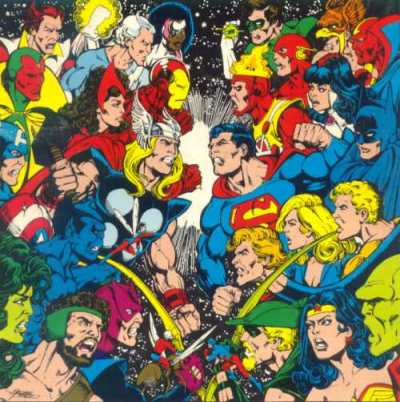 The Beatings will now begin! Art By George Perez.
The characters on the left are the Property of Marvel Comics. The ones on the right belong to DC Comics.
As of 12 April 2002, I will own a copy of the Hero System 5th edition rulesbook, which will render the 250 Point Project null and void. The rules have changed somewhat, and starting superhero parameters will be 350 points. Time permitting, I will recreate the characters presented above, and add new ones for you to dissect. In the meantime, you can still see links to my writeups at Mathew Ignash's Champions Page. For more great Champions/HERO System pages, go to these sites:
Deejay's Unofficial Champions Writeup Page
One of the first, and still the best.

The Great Net Book of Real HEROs
Another really good page

Uncanny X-Men and Friends Page
A little High-End for my tastes, but still a very good site.

Power Point
Not many character writeups, but lots of useful Champions related material.


As soon as I have the 350 Point Project ready to go, you'll be the first to know...